Seniors are afraid to fall? Black technology help!
Seniors are afraid to fall? Black technology help!
——S-AIRBAG Independently Develops Intelligent Airbag Protective Belt Attended At The International Senior Rehabilitation Assistive Device Expo
As the saying goes, a young man can't stand a fracture if he hurts his muscles for a hundred days, let alone the elderly? Some research data show that fall injuries have surpassed cardiovascular disease and cancer, and have become the leading cause of death for elderly people over 65 years old. Among them, hip fracture has the most serious consequences. 20% of the elderly injured died unfortunately within one year, and 30% of the elderly injured lost their ability to move and take care of themselves and needed to stay in bed for a long time.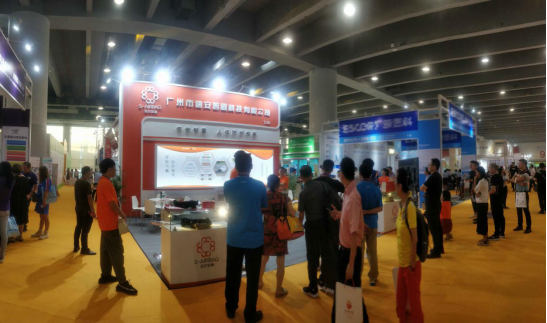 With the aging of the population, the pension industry has grown rapidly, but in the early stage of the market, there has been no product for the elderly to prevent fall. This time the reporter came to China (Guangzhou) International Rehabilitation Assistive Equipment Expo to find treasure, and also found a product for the elderly wrestling protection at the expo.
The intelligient airbag belt is developed by S-AIRBAG technology Co., Ltd. Let's see on site.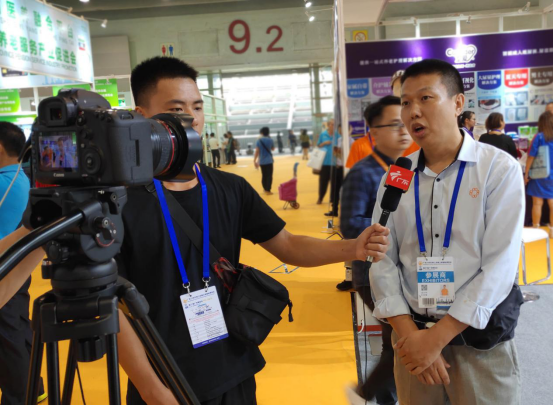 Reporter: What magic effect does this smart protective airbag have?
S-AIRBAG:Our smart airbag protection belt is mainly used to reduce the probability of hip fracture after the elderly fall, to protect the health of the elderly. After the elderly wear this product, if a wrestling situation occurs, the intelligent algorithm will sense that the elderly is about to fall, and the airbag will automatically open. The opened airbag can protect the elderly's hips and reduce or prevent the elderly from falling as much as possible. Risk of hip fracture after a fall.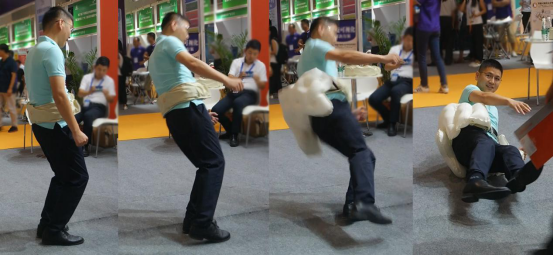 Reporter: Why did you think of making such a product?
S-AIRBAG: A few years ago, several of our founders from different fields came together to work on this project. Among the five founders, two of them have suffered a hip fracture due to a fall from their elders. One of the elders is still taking care of their daily lives by their siblings. I personally experienced the suffering of the elders, so we wanted to always do something, so we set up a project in early 16th, hoping to prevent and reduce the elderly's injuries and family burden caused by falling injuries, so that the elderly in the world can spend their old age.
Reporter: Under what circumstances will the elderly use this product?
S-AIRBAG: This smart airbag protective belt is mainly suitable for elderly patients with severe osteoporosis who are prone to fall due to inconvenient legs, high blood pressure, hypoglycemia, visual impairment or long-term medication. It is also recommended to wear an airbag protective belt for patients recovering from orthopedic surgery, and for patients of all ages who have suffered injuries that have caused them to move. In winter, the road is icy in the north, the road is wet in the south, or the road is wet in the rainy season. We recommend that the elderly wear it except when sleeping or bathing.
Reporter: What are the characteristics compared to similar products?
S-AIRBAG: At present, the biggest advantage of our products is intelligent modules and patented technologies. Although other companies are also developing this type of protective gear, they have not yet entered the market for mass production. At present, there is indeed a product that has been put on the market in Europe. Because it has no IoT technology module, it has not been as intelligent as our products and has become a link between children and parents. At the same time of protection, the IoT communication module immediately sends alarm messages with precise positioning (Beidou + GPS dual system positioning) to APP users (such as children and partners) bound to all products through the cloud, and takes emergency measures in a timely manner.
Reporter: Is this the only product in S-AIRBAG?
S-AIRBAG: At this expo, we also communicated with the media and consumers of all parties. Everyone gave us a lot of support, let us be more convinced. We will be involved in the protection of the head, hands and other parts, insist on doing a good job in the field of human body protection, by developing products, and serving more consumers!